( Happy Cat Guide) The Cat Hammock - This Is What Your Cat & You Will Love It
Do cats like hammocks?
Cats love boxes and anything that look like a box. Even though your cat can't taste sweetness, it'll love this sweet cat window hammock.
Taking care of your cat is like taking care of a baby. You must groom, feed, and bathe it. In short, your cat depends on you not only for its survival but also for happiness.
Occasionally, good parents pamper their children.
It's time to recognize all the happiness your feline companion brought into your life.
Give it the perfect gift: a cat hammock.
A Cat in Hammock Is A Happy Cat
Modern cats are lazy. They spend most of their time sleeping and napping. When they wake up, they watch and judge everything. Sometimes they're vocal, and sometimes they're silent.
Cats love cozy and comfortable settings. Make sure your cat is snug by providing a padded hammock it'll enjoy. This can also serve as a safe corner when your cat needs some time alone.
Pick a window in a quiet part of your house. Attach the hammock and put in a cushion. Bonus points if you put a bottle of warm water under the blanket. Voila! You've made the perfect environment for your cat to feel relaxed and loved.
The best part is when you take your cat for a ride. Because you can latch the hammock onto any glass surface including that in your car.
Comfortable hammock + watching the outside world = a happy cat.
Note: You can detach the hammock to wash and clean to make sure your cat is safe.
Cat Hammock vs. Cat Tree: Which Is Better?
Cat window hammocks offer 3 benefits in 1: need little space, easy to assemble, and sturdy.
They're easy to install anywhere there's a glass surface. You can customize them by adding cushions and pads. Finally, they'll support your cat comfortably.
Cat trees take a lot of space, hard to assemble, and broken pieces may hurt your furry baby.
If you're considering a cat gym, also consider they occupy lots of space as well. Additionally, they need a lot of maintenance.
How to Install Your Cat Window Hammock?
This cat hammock comes with two powerful suction cups. They're best to attach the hammock to glass. Whether it's glass windows or doors, they'll work fine.
But what if your cat gain weight or the caps wear out after years of use?
In general, the hammock will support your cat if it's 40 lbs. or less.
If your cat is large, then you'll need to take "drastic measures." Like using two metal screws and bolts to secure the cat bed in place.
You may want to do it but it's not required. It's that simple.
Give Your Cat the Gift of Relaxation
It's ridiculous to think you can control your cat. Cats do what they want. That's why we love them, in the first place. Perhaps, you can trick your cat into staying in one place instead of walking all over your keyboard.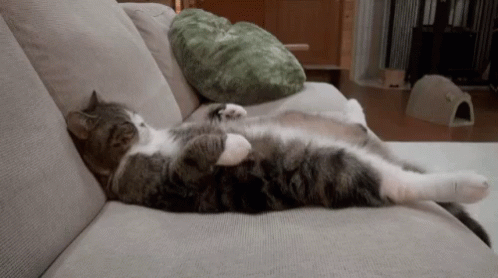 A cat hammock is the best cat accessory because it'll keep your cat in one place. At least, the success rate is 75% of the time. So, you've got a good chance.
Buy a cat window hammock from us today and see for yourself.
For once, your cat will let you relax, but you must give it the gift of relaxation first.
For laughs: Watch while your cat tries to get into its hammock